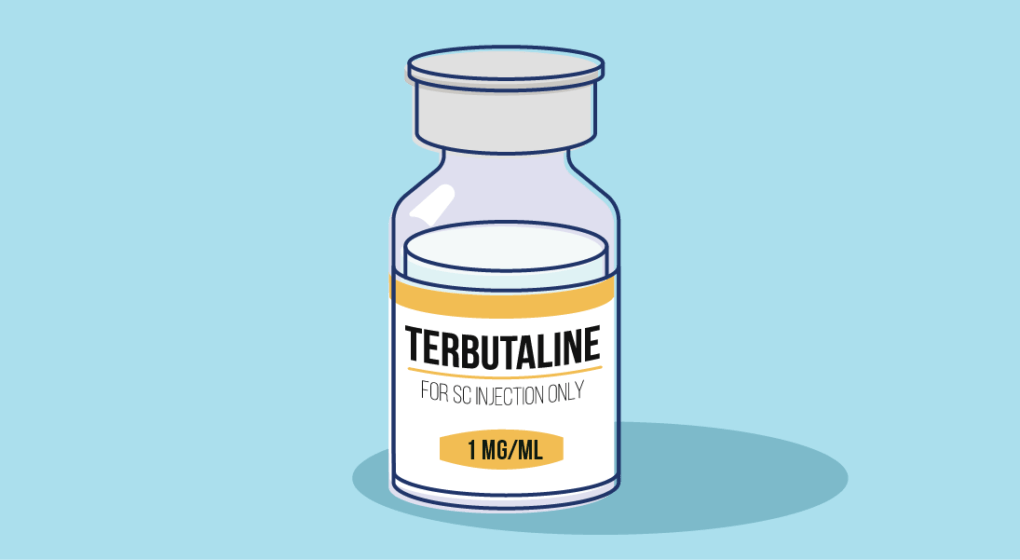 Terbutaline works by activating beta2 adrenoceptors in the body, which causes the muscles surrounding the bronchial tubes in the airways to relax. This increases the size of airway passages and makes it easier for you to breathe.
It starts to work its effect rapidly on your body, so it is useful to quickly relieve symptoms of asthma and chronic obstructive respiratory disease (COPD) when they get worse.
Brand Names and Doses
Terbutaline is the generic name of the drug, which is the name of the active ingredient in the medication that has an effect on your body. However, you may know it better by its brand names, the name given by the pharmaceutical companies that produces it. The brand name of terbutaline is Bricanyl.
Bricanyl is available in three different types of dosages:
· Bricanyl Turbuhaler (500 mcg/dose) is a dry powder inhaler, which delivers a powder that contains the medication into the airways with a breath-activated device.
· Bricanyl Elixir (0.3 mg/mL) is an oral liquid that can be swallowed.
· Bricanyl injection (500 mcg/mL) is a subcutaneous injection to be administered into the body.
What type of drug is it?
Terbutaline is a type of drug known as a short-acting beta2 agonist, which is a group of medication that acts similarly. They activate the beta2 adrenoceptors and cause the muscles surrounding airways to relax so that the air can pass through more easily. Another example of a short-acting beta2 agonist is salbutamol.
There are also some drugs known as long-acting beta2 agonists, such as eformeterol, indacaterol and salmeterol. These medications work in the same way but continue to have an effect for a longer period of time so can be used for different purposes, such as preventative treatment rather than relief of asthma and COPD symptoms.
How does Terbutaline work?
Terbutaline works its effect in the body by stimulating certain receptors, called beta2 adrenoceptors. When these adrenoceptors are activated, the smooth muscles surrounding the bronchial tubes relax so that the airways can expand and allow the air to pass through more easily. This is useful in the management of respiratory conditions such as asthma and COPD.
Terbutaline works its effect quickly but doesn't stay inside the body long after taking the last dose in comparison to other types of beta2 agonists. This makes it a good choice for relief of asthma or COPD symptoms because it can rapidly help to make breathing easier but doesn't stay in the body for long to cause significant side effects.
What is it used for?
Because of the way that terbutaline works, it is usually used as a reliever medication in the management of respiratory conditions such as asthma and COPD. It can also be taken shortly before exercise to prevent symptoms of exercise-induced asthma.
It is supposed to be used on an as-needed basis when you are experiencing symptoms such as difficulty breathing. You may find it helpful to keep a record of how often you need to take terbutaline for the relief of respiratory symptoms. If you rely on taking it too often – more than three times a week – it could be a sign that your asthma or COPD symptoms are not well controlled. You may need to talk to your doctor about preventing symptoms with other medications, such as long-acting beta2 agonists and inhaled corticosteroids.
Side Effects
Some people who take Terbutaline may experience some side effects, particularly if they take high doses. Side effects may include:
​Tremor in the hands
Heart palpitations
Fast heart rate (tachycardia)
Headache
Hyperglycemia
Muscle cramps
Agitation
Fortunately, the effects of Terbutaline are relatively short-lived and you clear the drug from your body quite quickly if you do experience these side effects. For this reason, if you are having an asthma attack, it is usually preferable to take terbutaline to relieve symptoms, even if you do experience some side effects in the short term. In any case, you should talk to your doctor about an action plan so that you know how to act if your symptoms do take a turn for the worse.
Drug Interactions
Terbutaline can interact with some other drugs that you may be taking, and it is important for you to be aware of these interactions so that you can double check that the combination is okay.
· Sympathomimetic amines (e.g. ephedrine, phenylephrine, pseudoephedrine): increased risk of side effects such as tremor, tachycardia and headache.
· Beta-blockers: have an opposite effect on the beta2 adrenoceptors in the body, so they are not usually used together.
· Theophylline: increased risk of low potassium levels in the blood (hypokalemia) so you will need to monitor your potassium levels more closely than usual.
Pregnancy and Breastfeeding
Terbutaline is considered to be same for women who are pregnant or breastfeeding to take. It is important that asthma symptoms can be relieved so most women can continue to take terbutaline as they did before becoming pregnant and nursing a child.
Pin it!