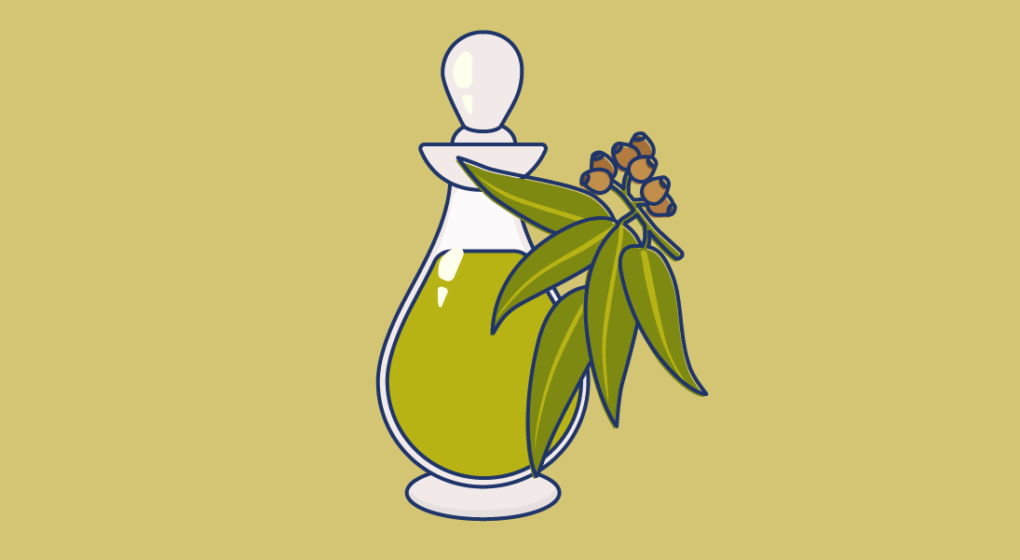 Just like Tea Tree oil, Eucalyptus is a plant native to Australia. It is widely thought that the plant was discovered in the late 17th century. It was used in a variety of ways from ointments to teas, and in the potent eucalyptus oil. Not until much later was it discovered that the medicinal properties were vast and could be tapped for their uses.
Just getting started with Essential Oils?
Download your free Essentials Kit booklet for advice about where to start!
Medicinal Uses of Eucalyptus Oil
Bronchial Infections – used to open up the bronchial tubes of the lungs to aid in the expelling of mucus.
Insect Repellent – the aroma can help repel insects such as mosquitoes
Whooping Cough
Joint Pain – helpful in relieving the pain of the joints because of its cooling effects. It can help the muscles and joints to relax and assist in the inflammation when applied topically (with a carrier oil only)
Asthma
Acne – as a skin option, it may be helpful in clearing the skin from bacteria that can lead to acne breakouts
Wound Healing
Burns
Scientific Research
There have been numerous studies in the uses and effectiveness of Eucalyptus oil. Below is a list of studies that have been done. In researching this article, I found the following studies. I have put the link to my source below in the additional resources section.
This study investigates the different ways extract of Eucalyptus, including essential oil, can be used for fungal infections and its effect on  cancer.
This study talks about how Eucalyptus can be used to assist in the treatment of bacterial and viral infections of the respiratory tract. It addresses different theories on how it may be helpful with regards to viruses as well.
This study highlights the uses of Eucalyptus Oil in some dental products, which is quite interesting. It theorizes that it may be useful in plaque and gingivitis prevention when included in toothpaste preparations.
This is just a small list of the studies conducted on the oil. There are always new studies going on this oil and others to show their effectiveness. I encourage you to continually look for new information.
 Other Uses of Eucalyptus Oil
There are various other uses of eucalyptus oil that have less research to back their use. These include:
Antiviral
Antiseptic- used frequently in burns and some cuts
Chest Infections – release of harmful mucus and relief of a cough
Cooling of the body in warm or hot weather – usually when applied to the skin or diffused in a diffuser
Deodorizing of the home
Dental Plaque – if used in safe ways, specifically in gum, early studies have seen some help in reducing plaque on the teeth and gums
Blood Sugar Reduction – research is currently being done on the oil's effectiveness for this particular ailment.
Cautions
Pregnant and Nursing women should NOT use Eucalyptus oil
Do not use this oil or anything containing it on a child under the age of two years
Do not take the oil directly by mouth unless working with a doctor
Consult with a doctor before using Eucalyptus oil, especially with ailments such as diabetes. It may interact with some medications.
Never eat the plant itself. In that form, it is considered poisonous to humans
Just getting started with Essential Oils?
Download your free Essentials Kit booklet for advice about where to start!
A Final Note
While Eucalyptus oil has many wonderful uses the cautions must be adhered to. I would suggest starting small with this oil. Using it as a room freshener is a great way to begin or by using it for a topical use in small amounts. I also recommend blending it with another oil such as lavender or tea tree but do so in a carrier oil to avoid adverse effects on the skin.
If you do decide to use for bronchial infections, I would suggest starting with a drop in a hot shower and let the steam lift the aroma and medicinal properties to you. Close your eyes when you use it as it may irritate your eyes due to the oil's strong aroma and constituents. If you follow these rules and cautions, you can use this oil to make your life and the lives of your family members even healthier!
Additional References:
Pin it!